A dozen raised beds brimming with fresh basil, thyme, and exotic lettuces are neatly tucked behind a low stone wall at the approach to Wheeler Farms in St. Helena. Elisabeth Russell, culinary and garden curator, picks off a leaf of red freckle lettuce to sample. "We want guests to stroll through the gardens as they arrive and taste along the way for a full agricultural experience," she says, before heading into the hospitality space to prepare nibbles from the produce.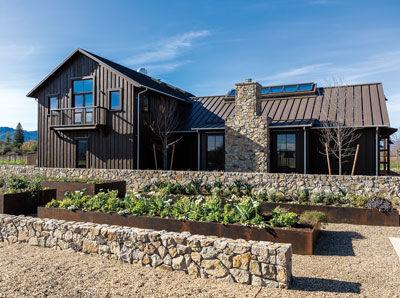 These striking gardens are the first thing visitors see at Bart and Daphne Araujo's 11.5-acre property. A unique collaborative of winegrowers producing outstanding wines in a single complex, Wheeler Farms is custom crush at the highest level. While the grounds have six acres of cabernet sauvignon and two of sauvignon blanc out back, the 80 olive trees, 21 heritage fruit trees, buzzing beehive, chicken coop, greenhouse, and 13 raised vegetable and herb garden beds are front and center. "We took conventional landscape gardening and turned it on its head by putting the gardens up front," Daphne says. "We want to make the point that this experience isn't just about wine."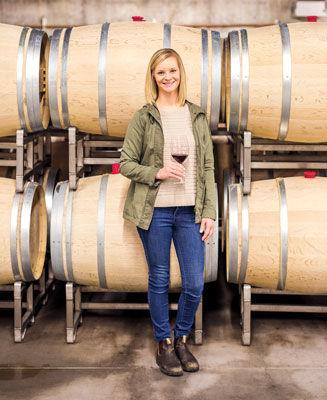 That may be the case, but custom crush winemaking has never looked quite like this, either. The Araujos' approach to landscaping only hints at their progressive take on producing ultrapremium wine in a collaborative process. It's a sharing economy like nothing else, with "Winemaking Partners" (WP) contracting to make their wines under the expert oversight of Wheeler Farms' production manager and winemaker Sarah Donley, formerly of Colgin Cellars.
"We have been a WP of Wheeler Farms since the first year of operation," says Steve Contursi of Arrow and Branch Winery. "We chose Wheeler Farms because of the state-of-the-art wine-making machinery and tanks backed up with a highly knowledgeable cellar team."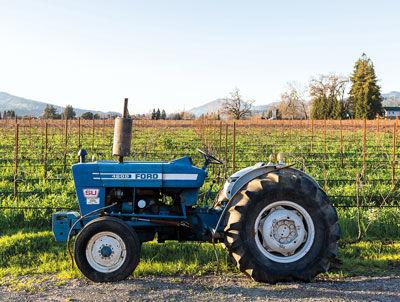 The WPs share the luxe 4,400-square-foot, two-story, wood-framed hospitality house and upstairs offices, and the 14,500-square-foot cool underground barrel storage space. Each winery can produce a maximum of 18,000 cases. It's a fully staffed campus of sorts, as opposed to the more traditional custom crush model, where tanks and barrels are rented out and managed independently at a larger winery.
A History of Quality
The Araujos spent the better part of two decades creating and growing their iconic 162-acre Araujo Estate and Eisele Vineyard into a highly reputable winery. When they relocated from Santa Barbara to Napa Valley in 1990 and purchased their Calistoga estate, Daphne, a former landscape architect, redesigned the gardens while Bart built the Araujo wines into a world-class collectible label. They were welcomed into the community, and received guidance and support from many established winemakers.
Visitors to the property relished the holistic experience, not just tasting the wine. "Our visitors would hear chickens on the way from the vineyards through our organic gardens, and they'd want to stroll through and connect with the land," Daphne recalls fondly.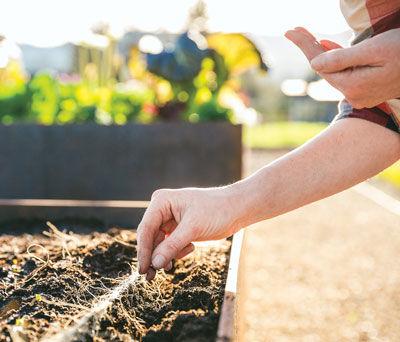 After they sold the winery in 2013 to the storied Bordeaux estate Château Latour, the Araujos hoped to give back to the industry that had supported them wholeheartedly. Bart also had a wealth of winemaking savvy to share. "After having a winery for 27 years, we had a sense of what was necessary to produce wine at the highest level," Bart says. He set out to craft an atelier of sorts, where a handful of winemakers would collaborate.
The Araujos wanted the full agricultural experience on this property as well, leading them to historic Wheeler Farms. Originally part of the 2,000-acre Carne Humana Spanish land grant, the site had been home to Charles Wheeler and family since the 1870s; they grew fruit and produced wine and brandy on the former farm complex for decades. "We brought it back to the full agricultural experience it once was," Bart says.
Wheeler Farms' location is also ideal, according to Contursi. "Location is always a factor for hosting Napa Valley visitors," he says. "This location on Zinfandel Lane just south of downtown St. Helena provides a great mid-valley spot with very easy access."
Taking a Fresh Approach
The Araujos began by clearing the former structures at Wheeler Farms and selecting the right architects and builders to fulfill their vision. "We were set on creating an environment where there were no compromises, since 50 percent of the production is already determined by Mother Nature," Bart says. Every dimension of the winemaking building was calculated for optimum production by designer Tom Taylor of Taylor Lombardo Architects and Wright Construction.
"We wanted this facility to be a winemaker's dream in many aspects," Bart adds.
The attention to detail begins as the grapes arrive and go directly into a cold storage room, as opposed to sitting exposed to the elements in vats at room temperature. Similarly, no corners are cut in sorting the grapes: Wheeler Farms is equipped with an optical sorter, a $200,000 piece of equipment that automatically picks cleaner and more uniform grapes, and is three times faster than human hands. "The sooner you can process fruit, especially in a year when all the grapes come in at the same time, the less time it's standing around from a quality standpoint," Bart says.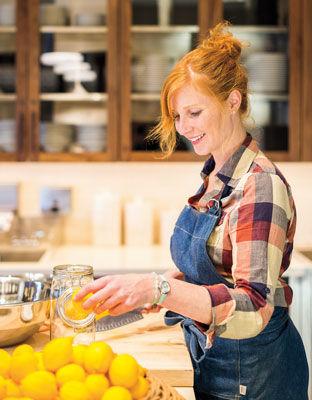 Fermentation tank size is another point of pride at Wheeler Farms. Most of the tanks are less than half the size of a typical tank, only a scant four to five tons, allowing winemakers the luxury of separating out distinct fruit for individual vinification. The 10,000-square-foot wood-and-stone winery building features an aluminum interior and holds as many as 60 stainless steel tanks. "Being able to leave your wine in tanks and not be pressured or pushed out to make room for more incoming grapes is a privilege that few, if any, other custom crush wineries can offer," says Contursi.
The tanks are equipped with an individual motor for vinification of grapes in a fully contained environment. "Each tank is a closed system and technically superior to open-top tanks, which are the norm," Bart says. This avoids having to drag large hoses to each tank, insert them into the top for the critical pump-over phase of fermentation, and then close the tank back up—which creates more exposure to elements beyond the winemaker's control. This may be especially important for the 2017 vintage, during which the North Bay fires filled the valley's air with smoke.
"Most critical to me was the layout and equipment of the new facility," says Tor Kenward of Kenward Family Wines, another Wheeler Farms WP. "The design maximizes good flow, which preserves fruit and ultimate wine quality." The fermentation process and temperatures can be handily viewed using an iPad app—in 3-D images, no less.
Despite the technology, there's still an on-site winery staff, including Donley and cellar master Cesar Sandoval (a nine-year veteran at Araujo Estate). The staff performs all the labor in making the wines, following detailed instructions given to them by each WP's winemaker. "Each winery has a dedicated winemaker who makes the decisions based on the style of wine he or she is looking to create," says Donley. "We have very collaborative relationships, and we often taste the wines together and discuss strategies and stylistic approaches."
Beneath the fermentation room sits a 14,500-square-foot poured concrete barrel cellar for wine aging and storage, another bonus for clients.   
"I've been a vintner in Napa Valley for over 40 years now and revel in how far we have traveled with technology," Kenward says. "At Wheeler Farms, each stage of winemaking is addressed with the best equipment available."
Hospitality With a Sense of Home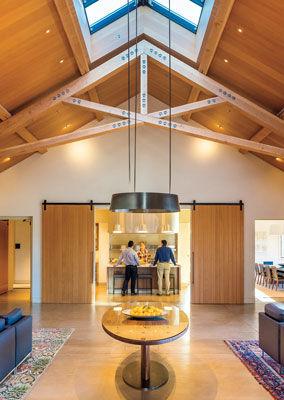 Adjacent to the winery is the hospitality suite and outdoor patio overlooking the St. Helena winery-scape. "What aspects do you need in a winery?" Bart asks. "It has to be tremendous on the production side, but you also need a place to entertain your clients."
With an extraordinary vista visible through floor-to-ceiling window-pocket doors, the hospitality suite is meant to invoke a homey feeling, rather than a typical tasting bar setting. There's a large stone fireplace with comfortable couches and cushy chairs. Poured concrete floors add a modern touch. There's also an oversized outdoor patio along with a private dining room for those who'd like a more formal tasting experience. "There's really no tasting bar because we wanted it to feel more like coming into someone's home," Daphne says.
Perhaps the most homelike feature is the open kitchen and island that beg visitors to watch as Russell creates small bites and dishes from the fresh produce grown just outside the door. "Who doesn't like hanging around a kitchen when they go to a party?" Russell asks. "We wanted our guests to feel that way here and share the experience of tasting right off the land, sided by sipping wines made on the premises."
The Wheeler Farms operation is in full swing now, and the winery has crushed more than 300 tons across two vintages. The Winemaking Partner wineries enjoy the collaboration, and Bart feels that he's creating a welcoming and top-tier environment for producing the highest-quality Napa Valley wines.
Wines Currently Produced at Wheeler Farms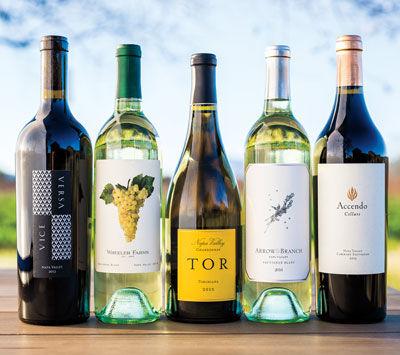 Accendo Cellars, proprietors Bart and Daphne Araujo
Tor, Kenward Family Wines, proprietor Tor Kenward
Arrow and Branch, proprietor Steve Contursi
Kinsman Wines, Bella Oaks, proprietor Nigel Kinsman
Wheeler Farms' first releases made entirely on the premises were the 2017 vintage, with the 2018 still in barrel. (The 2016 reds were produced elsewhere and are still in barrel; they will be bottled in July 2018 and released in November.)