A gateway to Wine Country, Los Carneros—usually simply referred to as Carneros—tends to serve as the scenic route rather than the destination. But the only American Viticultural Area (AVA) to extend into both Napa and Sonoma counties is finally having a moment. Long known for its maritime breezes and knack for producing fantastic cool-climate chardonnays, pinot noirs, and sparkling wines, Carneros is experiencing a recent boom in new wineries and stunning revitalizations of the region's classics. Here, Napa Sonoma rounds up some of the key players propelling the AVA to world-class status.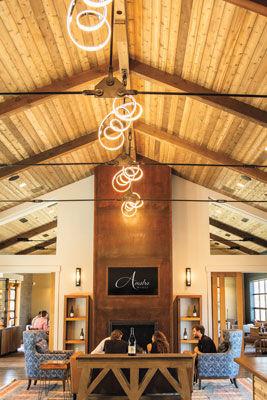 ANABA WINES
Tucked back from the busy four-way Carneros intersection of highways 121 and 116, the brand-new Vintners House at Anaba Wines is expertly removed from the Wine Country traffic. From the outside, it could be any vineyard farmhouse, but inside, the Sweazey family opted out of the traditional neutral palette in favor of rich and warm colors and textures, summoning visitors to get comfortable and stay awhile. On sunny days—and when Anaba's namesake, the signature anabatic winds of Carneros, have calmed down—you can play a game of bocce or paddle tennis with Sonoma Mountain as your backdrop. (Those winds do serve a purpose at this environmentally conscious winery: A wind turbine installed on the property generates enough electricity to power some of its operations.)
The new space is a major upgrade from the tiny cottage that has hosted the winery's tastings for some 15 years. Typical of Sonoma, Anaba's lineup includes elegant chardonnays and pinot noirs, but also some unique and unexpected Rhône varietals, such as viognier, syrah, and grenache blanc. anabawines.com.
ARTESA
A star of the 2019 Netflix movie Wine Country, Napa's Artesa winery captured viewers' attention with its breathtaking and panoramic hilltop location. Its fountain sculpture is one of the most photographed spots in all of Wine Country, and while Artesa has been lauded for its surrounding beauty and striking architecture since the '90s, the estate made some big changes in 2017 to give the tasting room's interior its own wow factor.
Like many of Artesa's wines (such as its killer albariño), the Grand Salon taps into the owners' Spanish roots. Bright, white, and filled with natural light, the room has a striking, circular bar at its heart, featuring custom-made encaustic tiles from Spain. (If you look closely, you'll see they incorporate Artesa's logo.) "I was inspired by some of my favorite tapas bars in Barcelona, where classic craft and chic modernity are seamlessly integrated, and you're as likely to learn something from the person sitting next to you as you are from your warm host," Artesa's president, Susan Sueiro, says of the Grand Salon's design. Guests can even book a wine-and-food pairing with traditional skewered tapas known as pintxos. artesawinery.com.
BOUCHAINE VINEYARDS
As you enter Bouchaine's new 5,000-square-foot visitor center, the slogan Wine makes you happy greets you at the doors. The massive, semicircular structure rises regally from a hilltop, making an undeniable statement that this oft-bypassed wine region is coming into its own. The oldest continuously operating winery in Carneros, Bouchaine has farmed grapes on this property since the 1880s. More than a century later, this premium producer of pinot noir and chardonnay is ushering the region into the modern era with its recently opened world-class tasting room. The interior is cozy and light-filled—the building's entire facade is lined with windows that create an accordion effect—and features a grand fireplace and professional-​grade chef's kitchen for the winery's many culinary-infused events. Outside, an expansive terrace is outfitted with lounge furniture and firepits, creating the perfect nooks for taking in all of Carneros.
"Our goal was to showcase our estate and the real beauty of Carneros. From our new terrace, you can taste our wines overlooking the estate vineyards and all the way to the bay," says Chris Kajani, Bouchaine's winemaker and general manager. "The cool, foggy, breezy maritime influ-ence of the bay is what allows for the vibrancy and tension found in the pinot noir and chardonnay we produce. We wanted guests to experience a view that captures that essence of Carneros." bouchaine.com.
CALMÉRE ESTATE WINERY
A sister of the always-buzzing Peju Province Winery in Rutherford, Calmére Estate Winery is a new project by second-generation family members Lisa and Ariana Peju—but the two experiences could not be more different. Off the main roads and surrounded by wavelike hills with views of San Pablo Bay, Calmére is tranquil and true to its name, a combination of the French words for calm (calme) and sea (mer). While Peju is known for its Bordeaux-varietal wines, Calmére takes a Burgundian approach, producing distinctive pinot noirs and chardonnays.
"We wanted to express a second-generation interpretation of what a wine tasting can be," Ariana says. "While at Peju we have created a destination for cabernet sauvignon, Calmére is about enjoying wine in a memorable setting with a sense of San Francisco Bay in the distance and the history of the Carneros region as another layer of context." The rustic-chic tasting room peers into the cellar, but the best seats are out on the deck amid the olive trees. Stop by for a leisurely tasting with panoramic vineyard views and a game of bocce. You'll never want to leave. calmereestate.com.
THE DONUM ESTATE
Wine and art converge at Sonoma's Donum Estate, where visitors can sip and stroll alongside nearly 30 large-scale sculptures set throughout the 200-acre property. Among the estate's most prominent pieces is Love Me, a 24-foot mirrored steel heart by Richard Hudson that resembles Chicago's Cloud Gate. 
In 2017, the winery—which is known for its estate-grown pinot noir—opened a new private tasting space called the Donum Home. An unassuming white structure, it purposely plays second fiddle to the verdant landscape, showcased through a wall of sliding glass doors. The minimalist theme continues throughout the interior, which feels more like a sophisti-cated, modern home than a tasting room. thedonumestate.com.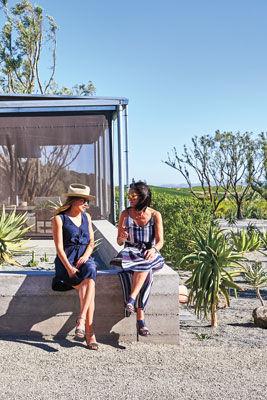 HUDSON RANCH AND VINEYARDS
The winery may be new, but the vines certainly aren't. If you're a chardonnay lover, chances are you've seen the name Hudson Vineyards on more than one of your favorite bottles, for proprietor Lee Hudson has been farming premium Carneros grapes on his historic, 2,000-acre ranch for nearly 40 years. In 2018, he and his wife, Cristina Salas-Porras Hudson, finally opened a series of indoor-outdoor tasting rooms on the property, which is also home to an heirloom vegetable garden, olive trees (the team makes olive oil, too), and farm animals. Visitors sit down in one of three intimate studios for a tasting of the Hudsons' small-production wines, featuring not just chardonnay but a rotating selection of some truly rare varietals, such as aleatico—a dry, aromatic white wine made from a Corsican black muscat grape. hudsonranch.com.
HYDE VINEYARDS
A legendary pioneer of the Carneros wine region, Larry Hyde started his family farming business in 1979. Inspired by the grand crus of Burgundy, Hyde has since developed quite a reputation as a grower and sells his prized grapes to some of the top wineries in Napa and Sonoma, among them Kistler Vineyards, Paul Hobbs Winery, and Ramey Wine Cellars. The family eventually started to set aside a small amount of fruit for their own label and, in 2017, converted a no-frills Colonial-style home into a winery, where guests get an authentic and memorable taste of Carneros history. hydewines.com.
MIGRATION
Eager to join in on the Carneros revolution, Duckhorn's Migration brand opened a new visitor center on the historic Stanly Ranch in south Napa at the beginning of 2020. Migration produces pinot noir and chardonnay not just from Carneros but also from other cool-climate growing regions in California, such as Anderson Valley and Russian River Valley. migrationwines.com.
A Taste of the Region
Explore the delights of Carneros firsthand by staying and playing in the area.
A big factor in Carneros's charm is how seemingly unpopulated it is—how the wineries, homes, and businesses are simply scattered throughout the landscape, creating a much different picture than Napa's crowded Highway 29. Choices for accommodations and dining are limited, but what Carneros lacks in quantity, it makes up for in quality.
Stay
There's only one hotel in Carneros, but it happens to be one of Wine Country's top resorts. Book a newly renovated luxury cottage at the Carneros Resort and Spa, and bliss out at the 27-acre property's adults-only hilltop pool and state-of-the-art spa in your downtime.
Eat
The Carneros Resort is also home to two of the region's best restaurants: Boon Fly Café and Farm. A modernized roadhouse, Boon Fly is best known for its fried chicken, daily brunch Bloody Marys, and famous cinnamon-sugar doughnuts (which you can order ahead of time and pick up on your way out for the day).
As its name suggests, Farm is a sophisticated farm-to-table restaurant, and while you can order à la carte, chef Aaron Meneghelli's seasonal, single-ingredient tasting menu is a real treat. The eatery gets creative at brunch, too: Your table chooses four dishes to share family-style.
For something more casual, soak up all the wine you've been tasting at an authentic Carneros roadhouse. In Sonoma, Lou's Luncheonette (formerly known as the Fremont Diner) specializes in comfort food; don't miss the signature fried chicken and biscuits.
If you want to grab coffee, a quick bite, or picnic supplies to enjoy at one of the wineries (some allow this, but call ahead to inquire), stop in at either Napa's Stanly Lane Smokehouse Deli or Sonoma's Carneros Deli.