The Studio by Feast it Forward is redefining the term "one-stop shop." First and foremost, it's the new home of the web-based Feast it Forward network. It's an inspiration board come to life, where you can stoke your creativity and redesign your home in real time. It's a place to hang out and sip some wine—kids and dogs are welcome, too. Above all, the studio is a philanthropic endeavor, constantly giving back to charities worldwide.
After six years on the road filming food and lifestyle content across the country in an airstream named Sophia, Feast it Forward has settled into an official studio in downtown Napa's buzzing Oxbow District. Here, the team will film its numerous shows and even sell tickets to audience members for live filming and events.
But founder and president Katie Hamilton Shaffer wants the studio to serve a greater purpose. She developed the site as what she calls an "experiential showroom," the first of its kind in the United States. Feast it Forward has partnered with more than 30 like-minded brands to engage customers with wine, design, art, music, and food in one setting.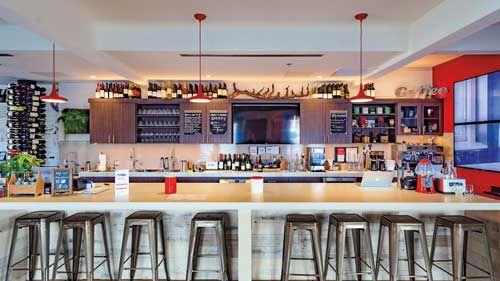 "I finally felt like it was time to bring our network to life, and I wanted something more tangible for our consumers and viewers to touch, feel, and experience," says Shaffer. "Our live studio showroom is truly a lifestyle, and we want people to immediately feel welcomed and at home when they walk in our doors. Beyond that, we want them to feel inspired by all of the incredible brands and people that have joined us to help build a greater community to give back."
Almost everything is donated by sponsors, from acid-stained floors by J&C Concrete Restoration to futuristic, light-up wine racks from Ultra Wine Racks. Even the Sharpies—which people are encouraged to use to write (appropriate) musings on the bathroom walls—are gifted. It's all for sale too, buyable via a high-tech, virtual showroom in-studio.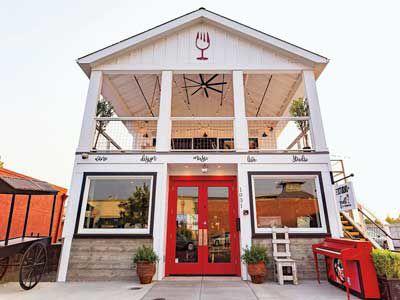 These items are thoughtfully placed throughout the two-story space in myriad indoor and outdoor nooks. For instance, the Gibson Guitar lounge features a drum set made out of Anolon cookware, a Crosley turntable, and hundreds of vinyls. The shopping aspect doesn't feel forced; visitors are encouraged to sit back, relax, and sip coffee, kombucha, or wine from a collective of 18 winery sponsors.
A percentage of the proceeds from wine and retail purchases (Feast it Forward has its own Products with a Purpose line of glasses, spices, jewelry, and more) goes toward the Feast it Forward Foundation, which in turn feeds 20 different charities nationwide each year. Moreover, many of its series and partners support Feast it Forward's overarching, socially conscious mission of making the world a better place.
"There's absolutely nothing like this," says Shaffer. "It brings our entire purpose and network to life."