People typically think of a winery visit as a mostly passive pursuit.
After all, you are normally seated at a tasting bar next to half-filled wine glasses as you listen to the host talk varietals, your sole activity a stroll to a patio table to nosh on food and take in the view.
There's nothing wrong with a day of wine-based relaxation, but visitors to Napa and Sonoma are increasingly looking to add some action to their wine tasting, and wineries and tour operators are meeting their needs with an array of new activities—many both family- and dog-friendly. Experiences range from mellow walks along flat vineyard paths to heart-pumping cycling trips over the hills and through the valleys. So strap on your helmet, lace up your hiking boots, and explore with glass in hand. Just remember to sip and adventure responsibly!
Cycle Centric
Immerse yourself in Napa's spectacular scenery of rolling hills and seemingly endless vineyards as you weave your way between multiple wineries on one of Napa Valley Bike Tour's pedal-powered wine-tasting itineraries. Half-day and full-day options, along with self-guided tours, give choices for those of all levels of motivation and fitness. For instance, if you want a more relaxed ride, you can upgrade to an e-bike or take the new fully electric bike tour. The classic half-day tour visits two wineries and covers about 10 to 14 miles at an easy pace, whereas the full-day tours include three winery stops and a tasty picnic lunch. Either choice provides a great way to cover a fair amount of distance while still moving slowly enough to appreciate the beautiful setting. Plus, the company's on-call support van can carry all the wine you might want to purchase during the winery visits—and people as well, if you happen to "overtaste" along the way. napavalleybiketours.com.
Stomp It Out
Return to the traditions of the old country and climb into a giant bucket to stomp the juice out of grapes. From late August through November (or whenever grapes run out), visitors can literally immerse themselves (or at least get ankle-deep) in wine during the Grape Stomping Experience at the Grgich Hills Estate. It's an aerobic exercise that can't be found in any fitness center—and there's nothing quite like the feeling of squished grapes squirting between your toes. Compete with your friends to see who can make the most juice in five to 10 frantic minutes. Even the kids can get involved with the stomping, if not the accompanying tasting. And never fear, the juice produced from the guest-stomping is not used in Grgich's wines, but recycled into its vineyards. grgich.com.
Wine Bud
To misquote Groucho Marx, "Outside of a dog, a glass of wine is man's best friend. Inside a dog, it's too dark to drink." At Kunde Family Winery, you don't have to choose between the two, as the winery offers vineyard hikes that pooches are welcome to join. On select Saturdays, canines Cooper and Kalie lead four-hour hikes across the property alongside their owners, Jeff and Roberta Kunde. The walking tour traverses the vineyards, with stops to discuss the wine-making process, then continues up into the hills, where you and your terrier can learn about the terroir created by the area's unique ecosystem. The outing finishes with wine tasting and lunch (including dog biscuits for the four-legged set). kunde.com.
All-Terrain Vineyards
Make like a local farmer and climb aboard a knobby-wheeled six-seater ATV to bump around the Hess Family Wine Estate's extensive vineyards on the slopes of Mount Veeder. The Vine to Table Excursion and Luncheon covers a lot of ground in a short period of time and includes stops for photos and educational lectures on grape growing and sustainability. The dusty ride is certain to work up both thirst and appetite, so it fittingly concludes with a paired wine tasting and three-course lunch (including food sourced from the estate) in a private dining room. Additional walking tours and an ATV-based wine-and-cheese experience can also be booked. hesscollection.com.
Sip and Stroll
A collection of eight self-guided vineyard walks, Sonoma County Vineyard Adventures provides the maps, signage, and information to allow visitors to easily wander the estates of different wineries across Sonoma County. A partnership between the Sonoma County Winegrowers and wineries such as Francis Ford Coppola, La Crema, St. Francis, and Balletto, these walks are a way to escape the sometimes-crowded tasting rooms and guided tours and just revel in the peace found among the grapevines. Linger as long as you'd like to snap the perfect selfie, take in the views, or just see if you can watch the grapes grow. Sample the end product at the winery tasting room or maybe enjoy an alfresco picnic lunch, then move on to the next winery and do it all over again. sonomavineyardadventures.com.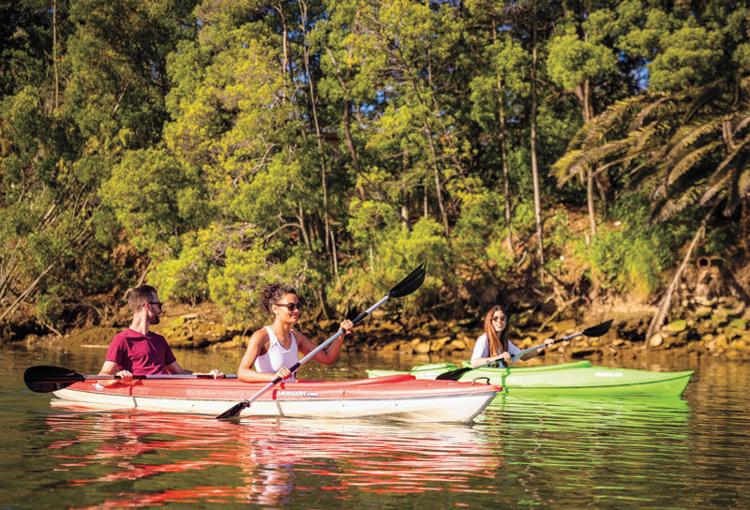 Pedal and Paddle
Care to combine Korbel champagne and yoga? Sandwich wine tasting between a bike ride and kayak tour? Bike for beers at a Napa brewery? Then chances are Getaway Adventures has a tour to fit your needs. This one-stop adventure shop offers organized and custom bike tours ranging from relaxed rides to intense 50-mile cross-county journeys, rewarding travelers with tastings at a rotating set of wineries in Calistoga, Healdsburg, and more. Its combination bike and kayak tours are a good way to experience the scope of the Wine Countryside, from hot, flat roadways, to breezy, vine-covered ridges, to the winding waters of the Russian River. The wines available to taste are equally varied—light and full-bodied, red and white, fruit-forward and earthy. For an otherworldly end to the day, try out the new sunset bioluminescence kayak tour off the Jenner Coast. As sparkling, glowing trails of microscopic creatures light the waters beneath your boat, it'll seem like you're floating in your own magical glass of bubbly. getawayadventures.com.